Maslow's 'Hierachy of Needs' lists 'shelter' as a basic human need, though people around the world live in everything from a hut, a houseboat, an RV or even a luxury home. The following houses exceed every want and need you could ever have.
Fun Fact: Buckingham Palace is currently undergoing 10 year, $485million home renovations, making them the most expensive ever. If you need renovation and remodeling services, check out sightlinebuildersincorporated.com
These are the Most Expensive Houses in the world. (let us know if you ever want to get help selling your luxury home)
For this article we've teamed up with Youtube Channel iRicher, so check out their video and Subscribe!
Most Expensive Houses in the World
10: 18-19 Kensington Palace Gardens – $222 Million
The Kensington Palace Gardens in London is the home to Indian Business and Industrial tycoon, Lakshmi Mittal. This luxurious property sits elegantly on what is considered the Billionaires Row in London. Imagine waking up to find that your next-door neighbours are members of the Royal Family?
This home flaunts an impressive 12 bathrooms, ample parking space to hold up to 20 of his wide selection of cars, a spectacular indoor swimming pool, and a neatly-pruned garden where the billionaire can relax. With all these exquisite amenities and more, it's no surprise that the mansion boasts a splendid $222 million market value price.
9: 220 Central Park South Penthouse, New York – $238 Million
When billionaires buy penthouses, they do so in spectacular fashion. Indeed, hedge fund billionaire Ken Griffin smashed records by purchasing the most expensive penthouse in the United States. He bought this breathtaking 24,000 square-foot penthouse in uptown New York.Designed by Robert A.M. Stern, the penthouse provides a breathtaking view of magnificent Yankee landmarks like Central Park.
Purchased for a staggering $238 million, luxury doesn't come cheap. The building is structured as a 79-storey tower sheathed in Alabama Silver Shadow limestone, while flaunting top-tier amenities such as a private dining area, an athletics club, and a health spa.
8: Four Fairfield Pond, Sagaponack, New York – $248 Million
The Big Apple is no doubt the heart of American business. Elegant mansions are purchased by the creme de la creme of oligarchs and hedge fund billionaires in America. One of them is Renco Group chairman, Ira Rennert, who owns the magnificent Four Fairfield Pond.
Sitting atop 63-acres of prime real estate, this mansion boasts an impressive array of 29 bedrooms, a 91-foot dining room, and three indoor swimming pools. The home also has a power plant to keep the lights running for days on end.
Other luxurious amenities at the Four Fairfield Pond include a tennis and squash court, a basketball court, and a bowling alley.
Today, the market value of this mansion sits at $248 million!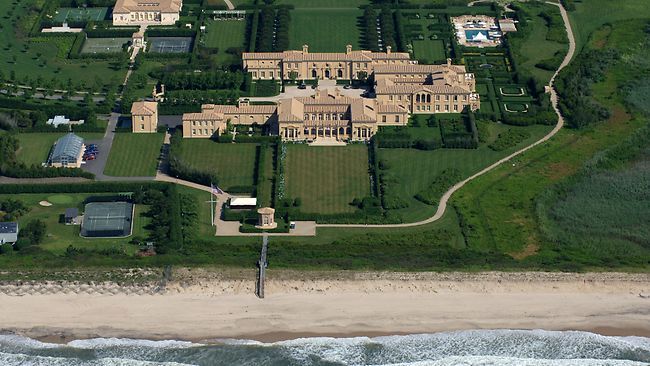 7: Mesa Vista Ranch, Eastern Texas Panhandle – $250 Million
American business magnate T. Boone Pickens owns this 65,000-acre ranch in Panhandle Texas.The ranch is a true testament to what money can buy. From a personal pub, a private airport, and a state-of-the-art lodge; what more could you ask for?
A big dog lover, Pickens has an 11,000 square-foot dog kennel that houses more than 40 dogs.The property also boasts a chapel, 20 man-made lakes, and a series of gold greens and fairways.
Having made his riches in the oil and manufacturing industry, Pickens moved his childhood home from Oklahoma to the ranch in 2008.
Today, this estate is worth $250 million!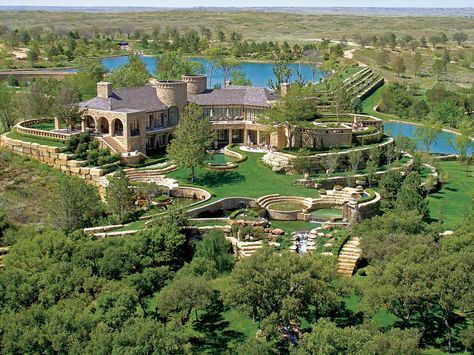 6: The Odeon Tower Penthouse, Monaco – $330 Million
With so many millionaires renting a space, Monaco is, indeed, home to the most impressive penthouses in the world. One particular penthouse that is a testament to wealth and luxury is the 35,000 square-foot apartment at the top of the Tour Odeon, constructed by the Groupe Marzocco.
The penthouse spans several floors, equipped with its very own private, high-speed elevator.Feeling a little thirsty under the Monaco sun? There is a water slide that comes from the upper floor and pours into an infinity pool with a 360-degree view of the surrounding landscape.
$330 million for this? Definitely worth it.

5: Le Palais Bulles, Theoule-Sur-Mer, France – $390 Million
Constructed by Hungarian architect and design maestro Antti Lovag, the Le Palais Bulles was built between 1975 to 1989. Famously known as the Bubbly Palace, this beautiful palace sits atop a rocky cliff overlooking the Mediterranean Sea. The design of the mansion is inspired by prehistoric caves of the Stone Age era.
Nevertheless, this seaside estate is not short on modern comforts. It boasts three modern swimming pools, a dozen well-manicured gardens, and it's very own amphitheatre that can host up to 500 occupants! It is currently the holiday home to Italian born French fashion mogul Pierre Cardin.
In 2015, the beautiful mansion was even featured as the venue for the Dior cruise collection indoor/outdoor fashion show!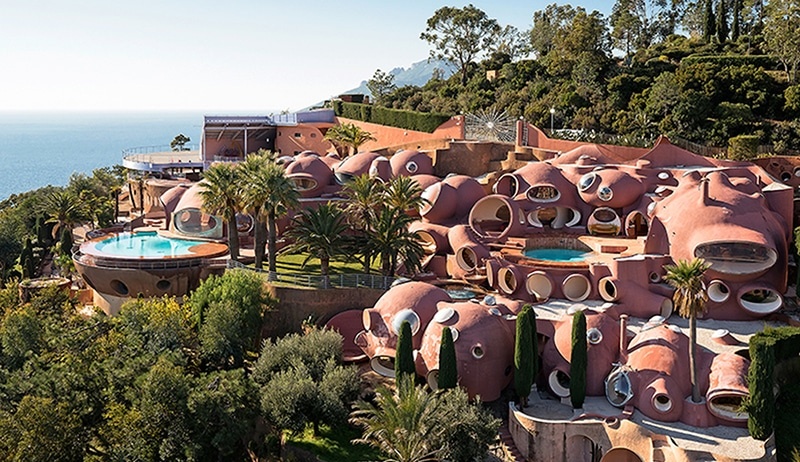 4: Villa Les Cedres, Saint-Jean-Cap-Ferrat – $410 Million
Situated in the French Riviera is the incredible Villa Les Cedres.
The home sits on 18,000 square feet of prime land, boasting a rich royal history spanning back to the days of King Leopold I of Belgium. It's laid with classic Victorian furniture; not to mention a series of brilliant art pieces that would no doubt auction for a fortune.
It also hosts 14 elegant bedrooms, a magnificent ballroom, and a state-of-the-art library. It's stables are large enough to accommodate more than 30 horses.
Located in the French Riviera, it's no surprise that the Villa Les Cedres has a property value of $410 million!
3: Witanhurst, London – $450 Million
Built in the early 20th Century, the Witanhurst is a Georgian Revival mansion considered the second largest residence in London. Situated on over 90,000 feet of prime land, this magnificent masterpiece boasts 65 rooms, with 25 of them designated as private rooms for family, friends, and guests.
Because of its popularity and allure, the house has been filmed in both small and large-scale screen productions. Some notable mentions include The Lost Prince, Tipping the Velvet, and Fame Academy.
Today, it has a market value of $450 million; which means you'll have to have a lengthy conversation with your financial advisor before buying this home!

2. Villa La Leopolda, VilleFranche-sur-Mer, France – $750 Million
Another beautiful villa that's quite the eye-catcher is the Villa Leopolda. This lovely, exquisite, and elegant palatial abode sits on 50 acres of prime land. The home, which is owned by Brazilian philanthropist and billionaire Lily Safra, boasts an elegant outdoor kitchen, a greenhouse, and a spectacular pool house for hosting exquisite parties.
With all this plus the breathtaking scenery of the French countryside, the Villa La Leopolda has a market value of $750 million.
Bonus: Buckingham Palace, London, UK – $2.9 Billion
Before we get to our top pick, we have to clear the air about one serious debate that's raged on for years. Yes, the Buckingham Palace is a magnificent home; there's no doubt about that. It's home to the oldest surviving royal family in Europe, and is currently the residence of the Queen of England.
But did you know that the Queen doesn't actually own any of the Royal Palaces like Buckingham? They are held in trust by the Crown Estate, which actually makes Buckingham Palace government property! This is one of the reasons why the palace is open to the public; and the reason why it's not our top pick. Sorry Londoners!
Valued at a mind-blowing $2.9 billion, it boasts 775 rooms; with 188 of them dedicated solely to the staff that tends to the Royal Family. 52 of the 775 bedrooms have also been allocated as private rooms for the Royal Family, with an additional 92 rooms converted to offices for State affairs. That being said, you'll fall in love with Buckingham Palace's detailed texture, exquisite art pieces, and crystalline chandeliers.
Number 1: Antilia Tower, Mumbai – $2.2 Billion
Yes, our top pick is no doubt one of the wonders of the world! Valued at a mind-blowing $2.2 billion, the Antilla tops our list as the most expensive home owned by a sole proprietor. It's a subtle mix of elegance and sophistication, built by industrial mogul Mukesh Ambani.
The home boasts an impressive 27 stories, built elegantly on more than 400,000 square feet of real-estate. It hosts 3 roof-top helicopter pads, and is fitted with 9-high speed elevators to enable inhabitants to move conveniently from one floor to another.
As for entertainment, the home boasts a theatre, a ballroom, an indoor swimming pool, and a jacuzzi for you to sit back and relax. The home even has its own private health-care centre for the residents to get immediate treatment if they're feeling under the weather.
If you'd like to find out more about the Antilia, check out the iRicher video on "The Most Expensive Home in the World!"
More Information: