In 1938, László Bíró, a Hungarian newspaper editor invented the ball point pen. Since then, a pen changed from a status symbol to being available for mere cents.For many rich and famous people, the pen is a status symbol, just like their designer suit, or million dollar watch.They use pens every day to sign deals that impact the lives of many people. You can buy a pen for less than a dollar, or you can buy one of the most expensive pens in the world.
The Most Expensive Pens in the World
#1. Aurora Diamante Fountain Pen ($1.47 million)
This is the most expensive pen in the world, with 2,000 diamonds in it. The Diamante Aurora, or simply Aurora pen is in a class of its own. Featuring over 30 carats of De Beers diamonds placed on a solid platinum barrel, its nib is rhodium-treated 18KT solid gold. It can be personalized with a coat of arms, portrait or signature.
#2. Caran d'Ache 1010 Diamonds Limited Edition Fountain Pen ($1 million)
This million dollar pen is made of white gold and is studded with 800 pure diamonds.
#3. Heaven Gold Pen ($995,510)
This wonderful pen is made of diamonds, gem stones and pink gold.
#4. Mystery Masterpiece ($730,000)
This limited edition pen was made by Mont Blanc and Van Cleef & Apparels, two popular brands. The pen is available in three variants: ruby, sapphire and emerald. All the variants have diamonds.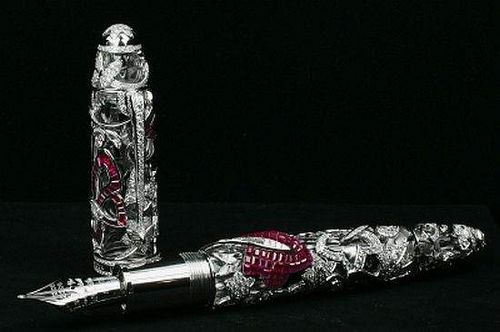 #5. Caran d'Ache Gotica Pen ($406,453)
Made by Caran d'Ache, this amazing pen's design represents Gothic art. Body and the cap feature six-sided rhodium-coated sterling silver. This awesome pen was launched in 2006 in China. It was a limited edition pen.
Pen is mightier than the sword. These pens are also more expensive than many swords.
More Information: