Sotheby's Cult Canvas Auction ended on September 30th 2020 with some amazingly unique shoes selling for an amazing amount of money.
The auction featured a total of eight rare and expensive one-off Nike sneakers, all of which are in perfect condition. Comprising official releases and also some production samples, they are "art and fashion, illustration and design, sport and culture".
"This is a highly curated and extremely selective grouping of some of the most important artist-created sneakers and designs to be released in Nike's history," said Director of E-commerce Development at Sotheby's, Brahm Wachter.
Leonard Hilton McGurr 'Futura' | Nike Dunk High Pro SB 'FLOM' | Size 8
Leonard Hilton McGurr, also known as Futura, and "Futura 2000", is an American graffiti artist. These beautiful shoes sold for US$63,000
Jeff Ng "Jeff Staple" | 'NYC Pigeon' Nike Dunk Low Pro SB Dual-Signed by Jeff Staple | Size 10
Jeff Ng, or Jeff Staple is the founder of Staple Design, a visual communications agency. These shoes sold for US$25,200.
Peter Moore | 'Bred' Nike Air Jordan 1 High OG (1985) | Size 11.5
Peter Moore is a Nike design legend. He originally wanted to name the 'Dunk" style shoes, 'College Color High'.These 'OG' style shoes sold for US$15,120.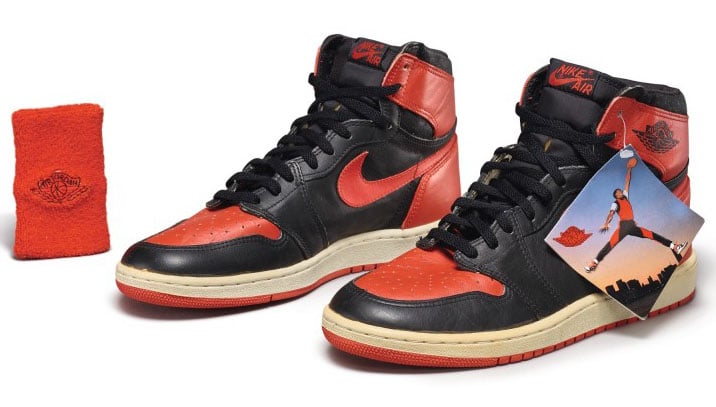 While expensive, none of these come close to the $560,000 price that Michael Jordan's trainers sold for earlier in 2020.
More Information: